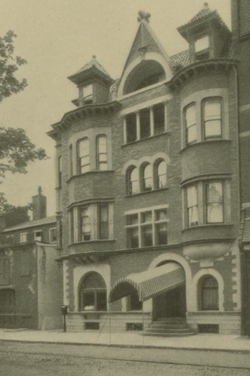 Leaders of the Women's Trade Union in 1907. Shown from left to right are Hannah Hennessy, Ida Rauh, Mary Dreir, Mary Kenny O'Sullivan, Margaret Robins, Margie Jones, Agnes Nestor and
Helen Marot.
Helen Marot was born in Philadelphia on 9th June, 1865. Her parent were Quakers and she was part of the Race Street Meetingn and School. Her father, Charles Henry Marot, was a binder and bookseller. She graduated from the Drexel Institute Library School on June 1895. She worked for the New Century Club which had been founded by women in Philadelphia by members of the
Women's Centennial Committee
of the Philadelphia Exposition. The Club included a working woman's library.
Marot worked as literary editor at the Ladies Home Journal [more to come].
Marot Free Library of Economics and Political Science founded with Innes Forbes and Dr. George M. Gould.
In 1899 Marot published a Handbook of Labor History. After moving to New York she joined with Florence Kelley and Josephine Goldmark to investigate child labour in the city.
In 1903 Marot joined with Mary Kenney O'Sullivan, Jane Addams, Mary McDowell, Margaret Haley, Agnes Nestor, Florence Kelley and Sophonisba Breckinridge to form the
Women's Trade Union League (WTUL)
. Marot became executive secretary of the WTUL New York branch.
Marot was the main figure in the formation of the Bookkeepers, Stenographers and Accountants Union and the the leader of the International Ladies' Garment Workers Union.
A Fabian socialist, in later life, Marot concentrated on writing and published several books including American Labor Unions (1914) and Creative Impulse in Industry (1918). She also worked for The Masses (1916-17) and The Dial (1918-20). Helen Marot died on 3rd June, 1940.
========
Master's Thesis., 1865-1901
by Gaudioso, Madeline, M.L.S., San Jose State University, 1992, 69 pages; AAT 1350082
Abstract (Summary)
Helen Marot was deeply dedicated to the social reform movement of the nineteenth century. Her aim was to educate the middle class to transform society for the betterment of all. Because of her activities in later years, Helen Marot is best known as a social reformer, a labor investigator, a writer, and an editor; but she is not widely known for being a librarian. Like many librarians of her time, she conceived her role to be that of an active participant in social changes. She saw the raison d'etre of libraries to be that of the "poor people's universities."
Helen Marot left neither an autobiography nor diaries; only a few of her letters remain. She was a private person who "shunned publicity and self-aggrandizement." This thesis reveals obscure facets of Marot's life and her contribution to modern library science.
The History of the Fabian Society
by Edward R. Pease. 1915.